OEM Nissan Parts in Cape Girardeau, MO
Get Genuine Nissan Parts
With assistance from our Nissan dealership in Cape Girardeau, Missouri, drivers can work under the hood of their car with the confidence that comes from knowing it is staying authentic. That's because here at John Sinclair Nissan, we have a dedicated parts department that is fully stocked with original equipment manufacturer components, including eye-catching accessories.
When you choose to use authentic auto products for all at-home services, you help protect your car's fuel efficiency and original warranty. Additionally, original equipment manufacturer components preserve your vehicle's resale value should you ever decide to trade-in, and work to ensure your Maxima enjoys the long lifespan that it deserves. Before getting started with maintenance care yourself, visit our Nissan dealership to shop at our parts center!
Treat Yourself To A Customized Shopping Process
Whether you're not sure which products complement the trim model you drive, are looking for installation tips, or would like to learn more about customizing your new Nissan, our friendly team members are here to assist. We offer business hours six days a week and will happily help you track down all of the items your vehicle requires, so don't hesitate to swing by for a visit today.
Things happen, and when your car needs parts and services, John Sinclair Nissan is here to help you get your car back on the road. We only use quality original equipment manufacturer (OEM) parts. Read on and we'll explain what that means and let you know all the services we offer.
What Are OEM Parts?
OEM, or original equipment manufacturer, parts are the same as the original parts that came with your car when it was brand new, as the original manufacturer makes them. The manufacturer designs these parts to fit your car perfectly and work seamlessly with your car's other components and rigorously tests them to ensure their quality and reliability. This ensures they provide the same level of performance and durability as the original parts.
Using OEM parts when repairing or maintaining your car can help ensure it runs smoothly and efficiently for as long as possible. They provide higher quality and consistency than aftermarket parts, which third-party manufacturers make and may not meet the same standards as OEM parts. While OEM parts may be more expensive than aftermarket parts, they're often the best choice for ensuring your car's long-term health and performance. They also typically come with a warranty that can help protect your investment and provide peace of mind.
Benefits of OEM Parts
As a car owner, you want to ensure your vehicle runs smoothly and efficiently for as long as possible. One way to achieve this is by using OEM parts when repairing or maintaining your car. Here are some benefits of using OEM parts on your vehicle:
Quality and Reliability
As the same manufacturer that made the original parts that came with your car makes the OEM parts, they're specifically designed and tested to work with your car's make and model. This ensures that the parts are high quality and reliable, which can help prevent further problems down the road.
Warranty Protection
Many car manufacturers require the use of OEM parts to maintain the validity of the warranty. If your car is still under warranty, using OEM parts can help protect that warranty. Using aftermarket parts could void your warranty if they cause damage to your vehicle.
Perfect Fit
The manufacturer makes OEM parts to fit your car perfectly. Aftermarket parts may look similar but aren't always made to the same exact specifications as the original parts. This can lead to improper fit, which can cause issues with your car's performance and even safety.
Consistency
OEM parts provide consistency in terms of performance and quality. If you use aftermarket parts, this can vary from one brand to another. With OEM parts, you can trust that you're getting the same level of quality and performance every time.
Resale Value
If you plan on selling your car in the future, using OEM parts can help maintain its value. Buyers often pay more for a vehicle that has been properly maintained with OEM parts. Using aftermarket parts could potentially lower the resale value of your car.
While aftermarket parts may be cheaper, they may sometimes provide a different level of quality and performance than OEM parts. Ultimately, the decision to use OEM parts is a wise investment in your car's long-term health and performance.
If you need to order parts for your Nissan, stop by our online ordering page and submit an order form.
John Sinclair Nissan Tire Service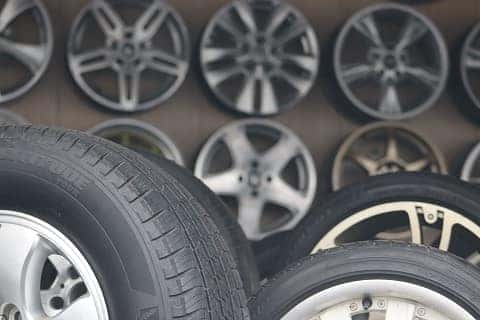 Image by RoamerDiary is licensed with Pixabay License
If you're in need of tires or services for your car, John Sinclair Nissan is here to help. We offer a wide range of services, including tire rotations, alignments, tire replacement, general maintenance, and repairs. You can find us at 478 Siemers Drive in Cape Girardeau, Missouri. Our service and parts departments are open from 8 a.m. to 6 p.m. Monday through Friday and from 8 a.m. to 5 p.m. on Saturday. We're closed on Sundays.
We equip our team of highly trained technicians with the latest tools and technology to provide fast and reliable service. We use only genuine OEM parts when repairing your vehicle, ensuring your car continues to run smoothly and efficiently.
Visit us online to see all the services our tire center has to offer. Make sure to check out our service specials for extra savings.
In addition to our top-notch service, John Sinclair Nissan also offers competitive pricing and special deals on tires and services. As well as all that, we provide convenient online scheduling and a comfortable waiting area with complimentary refreshments and Wi-Fi.
So, whether you need new tires or routine maintenance, John Sinclair Nissan is your go-to destination for expert service and quality parts.
Schedule an appointment with us today using our online scheduler.
Popular Nissan Accessories
You can purchase a variety of popular accessories, which can enhance the style and functionality of your vehicle, through John Sinclair Nissan. Here are some of the most popular Nissan accessories:
Floor mats: Nissan offers a range of all-weather and carpeted floor mats to protect your car's interior and keep it looking new.
Roof racks: A roof rack is an excellent option if you need extra space to carry cargo. Nissan offers a range of roof rack options for its vehicles.
Cargo organizers: Keep your cargo organized and secure with a variety of options, including trunk dividers, cargo nets, and cargo covers.
Remote start: Start your car from afar with Nissan's remote start system. It allows you to warm up or cool down your vehicle before you even get in.
Wheel locks: Protect your wheels from theft with Nissan's wheel locks. They're easy to install and provide additional peace of mind.
These are just a few of the many Nissan accessories available. You can find links to these accessories and more from Nissan USA.
Whether you need to order parts, schedule service, or get accessories for your Nissan, give us a call at 573-334-9611 or check us out online. You can stop by our Cape Girardeau dealership, and we'll be glad to help you get what you need.
Place An Order For OEM Car Parts Today
Order the parts and accessories that your vehicle requires without ever leaving the comfort of your home, thanks to our interactive website! Our online ordering form simplifies your purchase process, so feel free to start shopping after checking out all of our current parts specials. John Sinclair Nissan will promptly fulfill your order, and we'll be in touch as soon as your items are ready to be picked up.
Give your Nissan the very best when it comes to replacement components, team up with our John Sinclair Nissan parts department in Cape Girardeau, Missouri, today!
Mon - Fri

8:00 AM - 6:00 PM




Sat

8:00 AM - 5:00 PM




Sun

Closed
Mon - Sat

8:00 AM - 5:00 PM




Sun

Closed
Mon - Sat

8:00 AM - 5:00 PM




Sun

Closed